Public Education Today, Tomorrow, Forever...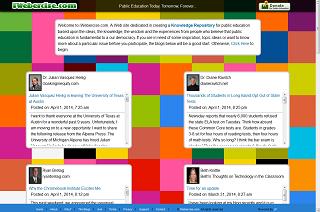 Site: iwebercise.com
Purpose: To provide public school educators and community activist that support public education a Web site where they can go to submit, critique or dialogue on questions related to teaching and education and to find, to give and to decide what proven solution is the best fit for their circumstance that when implemented will support or strengthen teaching and public education.
Features: The Web site currently provides a list of fifteen public education advocates whose total works can be a basis for selecting some of the topics for the Q & A. The signup process for the Q & A is free and once completed, you can begin to submit your question(s), decide which answer is the best solution for you, search categories, send and receive internal emails, edit your profile, request friends, accept friends, de-friend friends and create a friends list. Note: If you would like to nominate a person to the list, please use the sites contact form to make your nomination.
Status: The Web site is completed and working fine.
Update Status: The Web site project is currently unavailable to concentrate on isessioner.com's projects.